Layers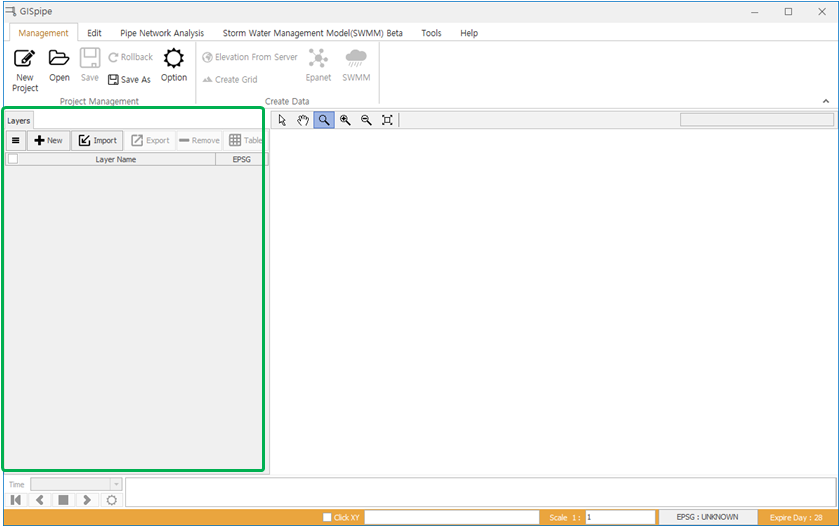 The green shot segment is the layer area.
1 Menu
It is a function that can add background layers, waterworks layers, and sewerage layers.

Click on the Menu button and a window will appear as shown below.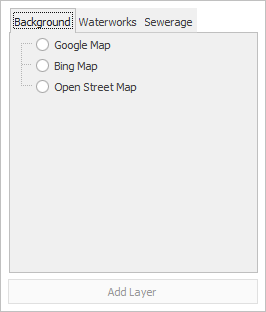 1.1 Background layer
Background layer function is a function that can use satellite images as background on a map.

The layer types include Google's GoogleMap, domestic portal site Daum, MicroSoft's BingMaps, Department of Land and Transport's Volkswagen and OpenStreetMap.
1.2 Waterworks layer
Empty layers such as waterworks facilities that are needed to create a network map are added.
1.3 Sewerage layer
Empty layers such as sewage facilities that are needed to create a network map are added.
2 New
This function creates new documents for EPANET or SWMM.
3 Import
It is a function to import GIS waterworks and sewage facilities data or EPANET INP, NET or SWMM INP.
3.1 Supported Format
ESRI Shape File.

AutoCAD DXF File.

Epanet NET 또는 INP File.

SWMM INP File.
3.2 Field Mapping
After importing a GIS file, a field mapping window appears.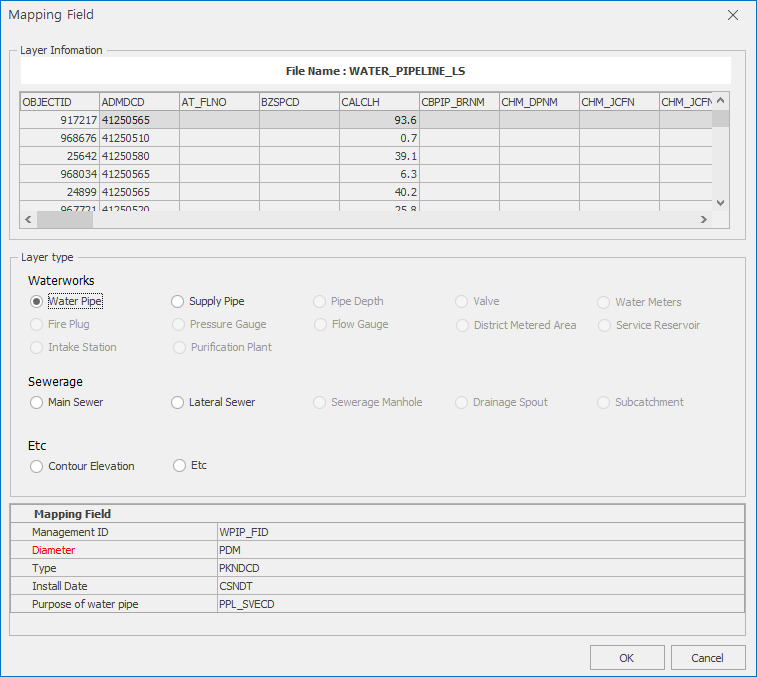 4 Specify coordinate system
If the added layer does not have coordinate system information, it is indicated that the layer EPSG item is unknown.

Without coordinate system, server elevation data or background layers may not appear.

To specify a coordinate system, select the desired layer in the Layers pane and right-click and click Specify Coordinate System menu.

If you do not know the coordinate system, add a background map and click on the Specify Coordinate System menu.

Select the desired coordinate system and click the OK button on the map to come up with the background map and check that it is the correct coordinate system.

You can find and apply the search function. (EPSG Number or Name of country).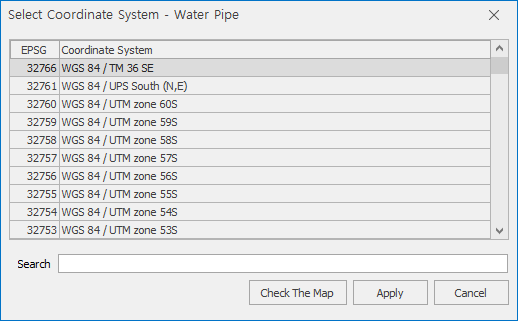 5 Export
A function to export selected layers.

The layer of waterworks and Sewerage facilities is exported to ShapeFile.

EPANET layers are exported to INP, NET, ShapeFile files.

SWMM layer supports exporting to an INP file.
6 Remove Layers
7 Table
This function shows the attribute data of the selected layer in a table form.
7.1 EPANET Layer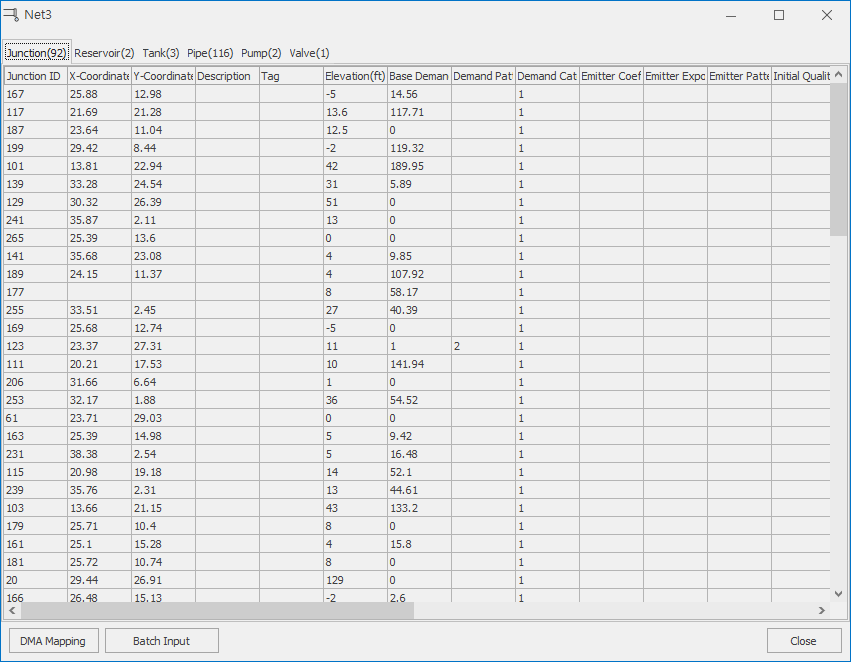 7.1.1 DMA Mapping
The pipe network included in DMA is also a function that is assigned to components.

To use this function, you must have a DMA boundary layer.

This function is mainly used for entering DMA specific statistics or patterns.
7.1.2 Batch Input
This function enters data collectively into a table.

Select a column to input and click on the batch entry button, which opens a window for entering values, as shown in the figure below.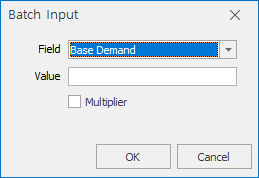 An advanced button appears when selecting emitter of edge, water leakage of pipe.

When you enter the total flow rate to distribute, the flow rate is allocated according to the pipe line ratio.
7.1.3 Popup Menu
7.1.3.1 Select in map
After selecting the desired heat, click Select on Map to select a shape on the map.
7.1.3.2 Move Location
Once the user has selected the desired heat, click Move to move to a position on the map.
7.2 SWMM Layer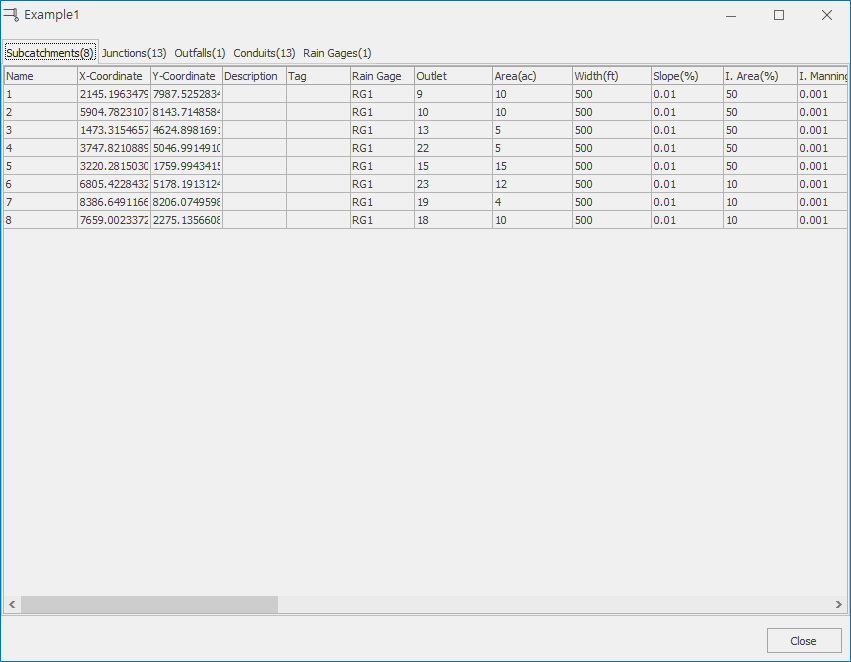 7.3 GIS Waterworks or Sewerage Facilityes Layer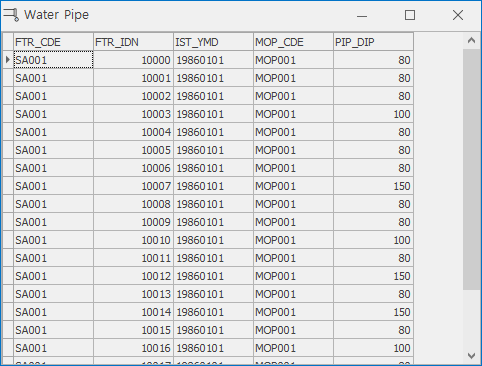 8 Layer properties and movements
Double-clicking a layer opens the layer properties window.

You can change the position of the layer by dragging and dropping it up and down.